tools:imported:cnc_embroidery
Personal Protective Equipment
Standard shop personal protective equipment (safety glasses, no long hair, no flowing clothes, etc.) are required

ABSOLUTELY NO gloves, rings, bracelets, or other items on your hands or fingers, as these may get caught on tools or work.
Safe Operation
Always unplug the machine from the electrical outlet immediately after using, when cleaning, when making any user servicing adjustments, or if you are leaving the machine unattended.
To unplug the machine, switch the machine to the symbol "O" position to turn it off.

Grasp the plug and pull it out of the electrical outlet. Do not pull on the cord.

 Plug the machine directly into the electrical outlet. Do not use an extension cord.
Never operate this machine if it has a damaged cord or plug, if it is not working properly, if it has been dropped or damaged, or water is spilled on the unit.
To avoid electric shock or fire; do not use a damaged power supply plug or loose electrical outlet, and ensure that the power supply plug is fully inserted and secure.•

While the machine is stored or in use if you notice anything unusual, such as an odor, heat,discoloration or deformation, stop using the machine immediately and unplug the power cord.
---
Six-Needle Anatomy
---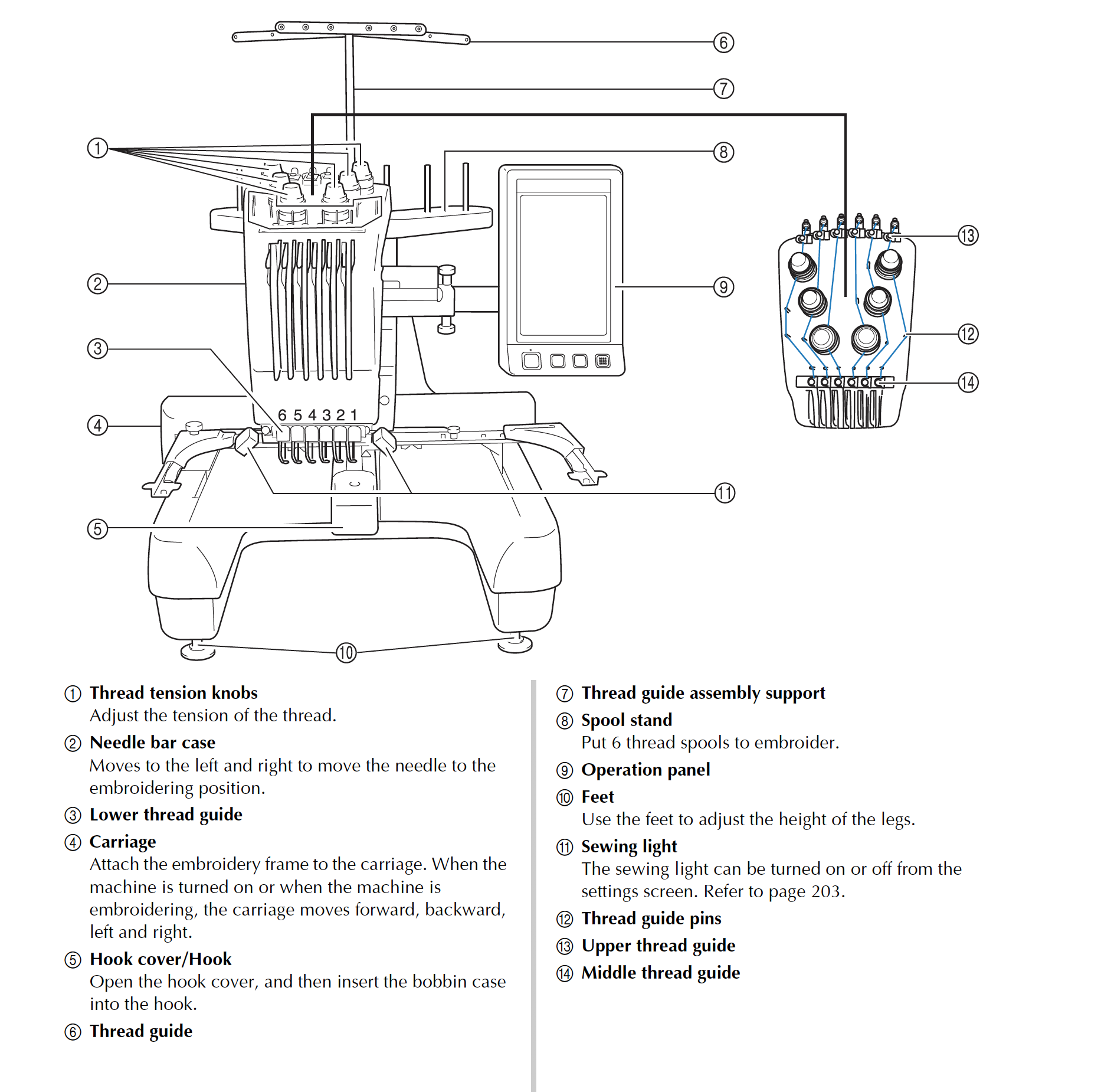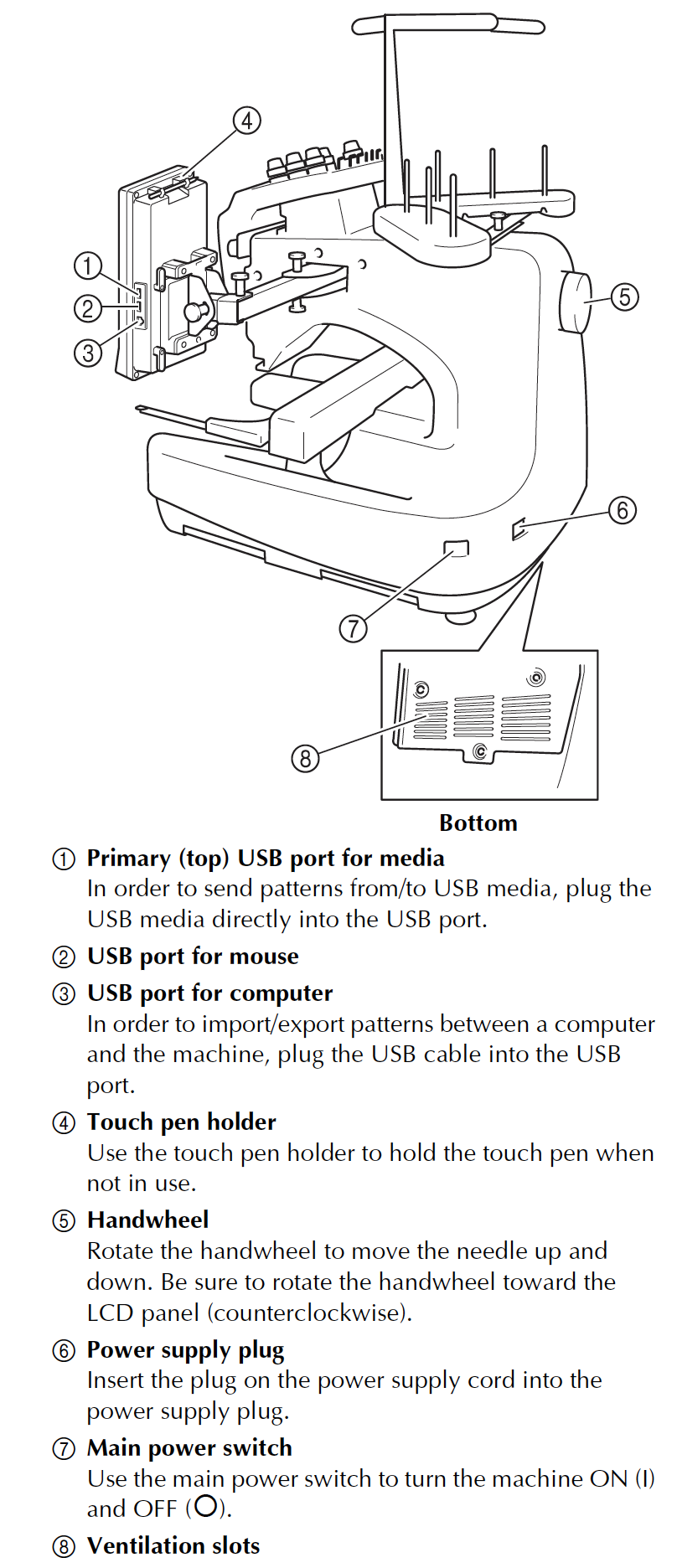 ---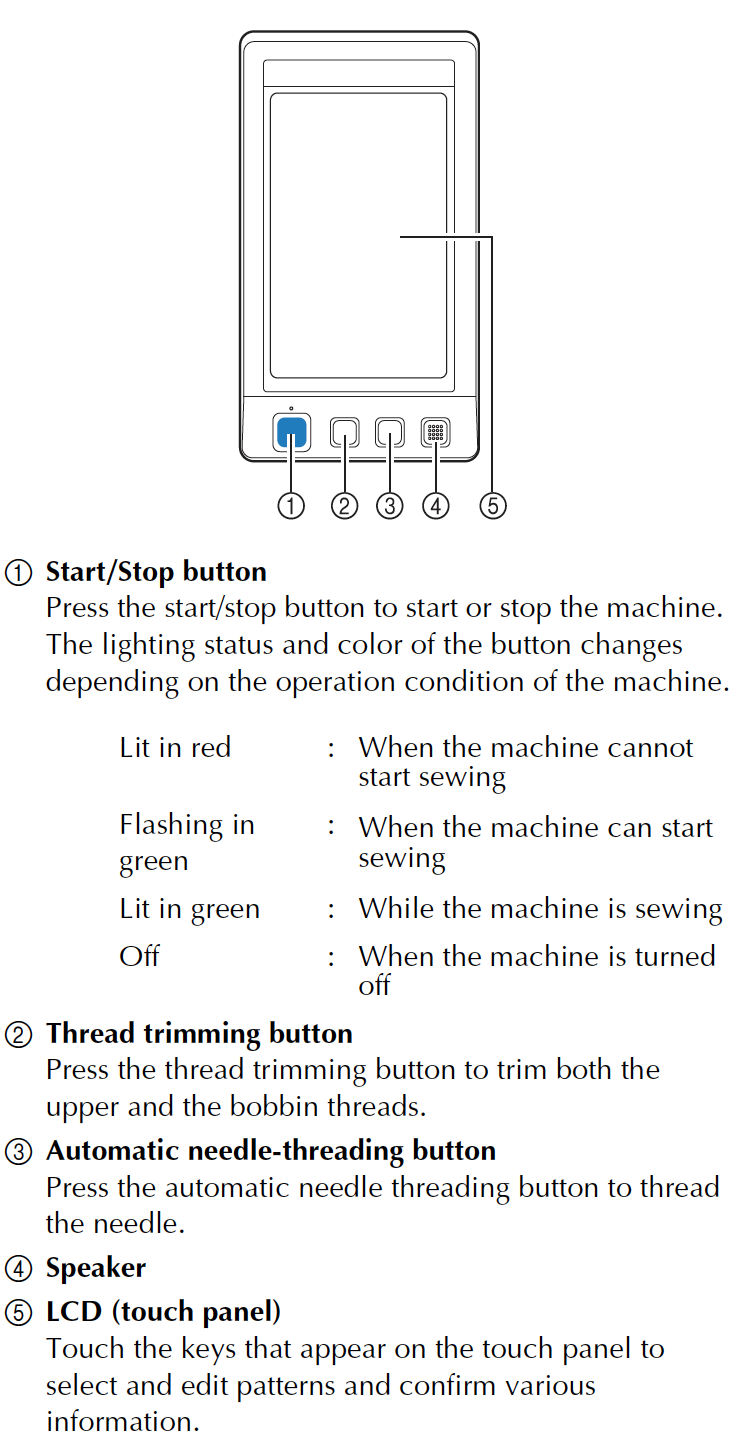 ---
Training
Install Bobbin

Turn on machine

Select embroidery pattern

Edit embroidery pattern

Specify embroidery settings

Check previewed image

Hoop the fabric in embroidery frame

Attache embroidery frame to the machine

Check the embroidery area

Thread the upper threads

Unlock the machine, then press the start/stop button to begin embroidering. (Machine automatically stops at pattern completion)

Check thread tension

Remove the embroidery frame, then remove fabric from frame

Turn off the machine
tools/imported/cnc_embroidery.txt · Last modified: 2023/02/18 14:50 by 127.0.0.1
---